Do you know any escorts in my city? Who do you recommend?
I know reputable providers all across the US and beyond.
I'll be in New Orleans for a few days. Where should I eat?
With or without a date, there are a few places I know of that I'm pretty sure you'll love.
I have a general question about the escorting business/visiting escorts/"the hobby". What do I do if–
Hold up, buddy. You're in the wrong place. Go here.
What made you decide to become a professional companion?
I get this one a lot. Honestly, it's pretty simple: While I value my educational achievements, they weren't in the most lucrative of fields. When I realized that I just wasn't cut out for the life of a starving artist (I enjoy great food way too much!). I knew I needed to think outside the box. I've always been very outgoing and at ease with people (not to mention adventurous), so I decided to give this a try, and I really liked it. The rest is history!
Do you maintain an incall location?
At this time, I cannot host, but I am happy to meet you at your hotel or home. I know that discretion is of utmost importance to you, and so I understand if you do not want a hotel charge showing up on your credit card bill. But please don't let something like that stop you from scheduling a date with me–I'm happy to arrange accommodations for us if you can provide me with an additional advance deposit of $200 to cover the cost of the room. I accept advance deposits; let me know if you're interested in this option and I'll provide you with details.
Do you require any screening?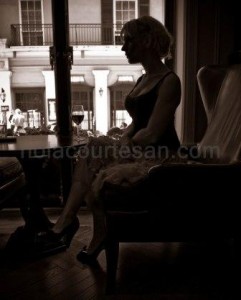 Yes. I accept the following methods of verification (choose at least one option):
2 provider references (links to her ad or site, and email)

~OR~

Employment Verification:
Your name
Name of your employer
Your company email or phone number

~OR~

If you're on P411, that works, too!

~AND~

Update: I no longer use Date-Check.com / Date-Check.net (and here's why).
More options (involving LinkedIn, Facebook, and personal websites/blogs) available under special circumstances only.
*I know RS-AVS is another screening tool used in some areas, but unfortunately, they don't have a customer base here in NOLA yet, and I don't think they plan to anytime soon (also, they refer to this region as the "Lower Midwest"–wtf?).
For a thorough explanation of my discreet screening process and why and how I use the methods I do, please see My Screening Methods: All you ever wanted to know about why and how I screen my clients.
Why don't you post your phone number?

Oh wow. I learned my lesson the hard way with that one! In short, I'm not a fan of 4 AM lewd phone calls, relentless debt collectors looking for someone I've never heard of, and text messages that go nowhere. Instead, I prefer to first communicate through email, and we can confirm by phone once you've passed my screening.
Update: I currently have my phone number posted, and for the most part, it's going OK. Perhaps you boys have learned to behave yourselves since the last time I tried this? ;)
Is there anyone you will not see?
Well, of course! I'm very selective, preferring quality over quantity, and I'm very cautious and discreet. Before we meet, my priority is my safety and peace of mind. Once I feel confident that we're a good match, my priority is your pleasure.
As for "type," I do not discriminate based on race, nationality, age, religion gender identity, body type, ability/disability, etc. Each client is an individual–one I'm eager to please.
I found you on Eros.com. The website on your ad is AnnieCalhoun.com. But when I clicked on it, I came here, to NOLAcourtesan.com. What's going on?

Well aren't you perceptive! I know it's weird, but I have two domain names that come to the same website.
When I started building this website, I chose the name NOLAcourtesan.com. Then I realized Eros doesn't allow the word "courtesan" to appear anywhere in its ads. It's a shame, really, because I love the word "courtesan." It just sounds so cool, and it has a certain mystique about it. I mean, why have an "escort" when you can have a "courtesan"? (I admit, I'm a sucker for a cool-sounding word.) Well, when I realized that was the case, I decided to buy a second domain with just my name–AnnieCalhoun.com–and redirect it here. Voila! Aren't I a clever girl?!
This is also the reason why, even though I'll probably email you from Annie@NOLAcourtesan.com or NOLAcourtesan@gmail.com, I have AnnieCalhoun.NOLA@gmail.com listed on Eros. I thought it would be a real pain, but luckily, I can forward them all to one address and kind of juggle from there, haha.
Update:I now have a bunch of other domain names (including NewOrleansCourtesan.com and New-Orleans-Escort.com), so as long as you're here reading this, even if you got here from a link that didn't say NOLAcourtesan.com, you're in the right place ;)
What's the deal with tipping?

Tips are greatly appreciated, but NEVER required. I will never ask for a tip–how awkward! The rates you see under "Booking" are for my time, and my goal during our scheduled appointment is to ensure your satisfaction. So if your expectations are exceeded? Fantastic! I don't expect anything more than the standard price you've already paid.
So…what are the "Do"s and "Don't"s?
Do be forthcoming with screening information.
Don't attempt to discuss my rates via email or phone. That information is clearly outlined on my booking page.
Do schedule the amount of time you think will be appropriate. If, at the end of our scheduled session, you would like to extend our time together, please be prepared to cover the rate for an additional hour. However…
Don't be disappointed if I cannot extend our session beyond your scheduled time–I have boring, everyday obligations just like anyone else, and sometimes I can't shirk those duties at the drop of a hat (unfortunately :( ).
Do treat me with respect. I am a person and a professional. I accept payment for my time and companionship; I do not sell myself, my rights, my safety, or my boundaries.
Don't send me lewd messages, as I will not respond.
Do be proactive: If you are considering scheduling an appointment, please suggest a time and location that is convenient for you.
Don't attempt to discuss activities of a sexual nature with me via phone or email, as I will not respond. I do not accept money for sexual acts. If, upon meeting, we enjoy each other's company, our friendship will naturally progress from there. I aim to provide an experience that will keep new friends coming back for more ;)
Do place the honorarium in plain view, preferably in a plain white envelope, before I arrive.
Do you accept gifts?
Gifts are never expected, but they're always a wonderful surprise. Any little token you'd like to bring to our meeting will be appreciated. And it doesn't have to be completely altruistic–if there's a certain outfit you'd like to see me in, feel free to bring it along! I am generally a size small or in the 2-4 range. Alternatively, if you're simply feeling generous, I'm a bibliophile, so a copy of your favorite book will be treasured. Ultimately, the best gift ever would be for my student loans to POOF disappear. However, the next best thing would be for anyone who is sincerely curious to check out my Amazon Wishlist. If you'd like to pick something up last minute, I can never have enough Amazon gift cards, chocolate, or cheap sunglasses!
Do you see women?
Yes; I'm bisexual.
Do you see couples?
Yes! Being invited to be intimate with a couple, as long as both partners are informed and eager*, is something I find highly erotic. I am honored to help both individuals explore their sexuality, their adventurousness, their fantasies, and the special bond they share–which will hopefully be even more sexually charged after I've left! The rates listed on my "Booking" page are structured by the hour. My rates for couples are listed here.
*Please don't "surprise" your partner unless you're SURE he/she will appreciate and enjoy the surprise!!
Do you allow reviews?
If you'd like to write a tasteful review of our time together, please feel free to do so. However, I respect your privacy and I value discretion–please do the same for me!
Are you associated with an agency?
No, I am 100% independent–self employment is awesome!
Where's your gallery page?
I have photos on each page of my site, and on some of my blog posts. Take a look around!
Who is your photographer?
All of the photos on this site (unless otherwise specified) were taken by a very dear, very talented friend of mine. If you're interested in hiring her, contact me.