(continued from My Screening Practices Explained, Part 1: Just Google Me, Baby!)
Soooo…


Screening Sites
In addition to the identity verification system I outlined in Part 1, I do, like many other providers, accept provider references and use P411 as part of my screening process, but I no longer accept Date-Check.

P411 (or Preferred 411, if you want to be fancy and call it by its full name) is a site where clients network with providers. Basically, providers vouch for clients.
This is how it works: A provider meets with a client, and then she reports back to the site regarding whether the client is safe to meet with or not. If she feels that he was a gentleman, she will indicate that. This is called an "Okay." If she felt that her safety was jeopardized by meeting with him, she will report him. The next time he decides to meet with a provider, she can check the "Okays" he has been given, and then contact those providers for further details. Using this system, providers can quickly and easily vet potential clients based on how other providers felt after sessions with him.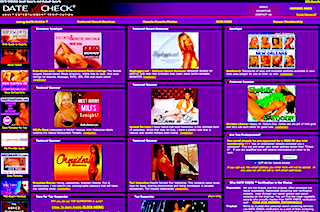 Date-Check is similar, just uglier and clunkier. Seriously, it looks like they jumped into a time machine, traveled back to 1998, and asked a 7-year-old with a drug problem to design that website. It's a mess. Also, the admins/owners of that site are…not the brightest of the bunch. For example, at the moment they have me listed as "retired." Why? Because I had the gall to tell them that, if they were going require me to pay them for access to their site (a site whose main revenue comes from the traffic and paid subscriptions of clients who are searching for escorts), then they needed to pay me for access to my photos and content. You see, they elected to keep my photos, content, contact info on their site after notifying me that my account was no longer free. I'm not OK with a company using my material to pull traffic to their site and giving me nothing in return, so I asked them to restore my account or remove my profile. Somehow, they understood that as, "I'm quitting the business." Um, no.
There are several other websites similar to these. Different sites are more popular in different locations. For example, Room Service 2000 (RoomService2000.com) is popular in Chicago. P411 is probably the most widely used in New Orleans.


Provider References
I do ask for references from clients (click here for a detailed explanation of how that works). No, this doesn't mean I want to hear from your thesis director or your boss. This means I would like to personally contact (through email or phone) two or three providers you've met with. I'll talk to that provider, and I'll ask her a few questions that will (hopefully) let me know I will be safe and comfortable in the client's presence, and that we will be compatible.


TER Whitelist – The Erotic Review Client Whitelist

As you may have realized, sites like P411 and Date-Check basically work on the idea of provider references, in that they allow me to contact providers who can vouch for you without you having to supply the contact information for those providers. The TER Whitelist (The Erotic Review – theeroticreview.com) is similar, but less extensive. If a member of TER meets with a provider who is also a member and he is very generous, gentlemanly, and respectful, and they have a very, very good time, she can "whitelist" him. This means that she highly recommends him to other escorts. If you are a member of TER and you have been whitelisted, please let me know!


Other boards, sites, etc.
Sometimes gentlemen provide their board handles (the usernames they use when posting on discussion sites, review sites, etc.) when they contact me. ECCIE.net is popular in New Orleans, TER is popular nationwide, and from what I understand, others were popular in the past. I do appreciate it when prospective clients provide this info, but a board handle alone is not enough to satisfy my screening requirements.


Tips
Save yourself some time and provide screening information (whichever applies to you) when you contact me. I will ignore emails that say simply "r u free tonite – sent from my iphone." (Answer: No. I know nothing about you, I don't meet with clients indiscriminately, and I need a little more notice than that–I have a life, a job, boring daily obligations, and friends I'm not willing to blow off for someone who doesn't bother to glance through my website, where my booking and screening practices are pretty clearly outlined.).