More, more, more! This is part…what, 4 now? of the questions sent to me by a young newbie. Today, I'm going to address a couple questions that EVERYONE asks at some point when they first decide to start dating escorts, or some might say, when they first "enter the "hobby" (I hate that term for it, but ya know…when in Rome…). Guys usually ask how they can tell if an escort is an undercover police officer, or if she's working with law enforcement in some other capacity. Strangely enough, that's one of the questions we (escorts) all ask when we first start in the biz. Seems like we have similar fears…
So, here's how he phrased it:
How do I know if they are a cop? Are there certain things they say that a companion would never say?
First: How do (you) know if an escort is a cop?
The Bad News:
The answer is pretty simple: the same way you know if the guy sitting next to you at the bar is a cop. And the same way you know if the bartender is working with the police. And the same way you know if the guy in the car in front of you is an undercover cop. And the same way you know if the woman behind you in the grocery store checkout line is a police officer.
In short: you don't. There's no surefire test. Cops can and do say whatever they need to to get the job done, truthful or not. Asking an undercover cop "Are you a cop?" does NOT obligate them to answer truthfully (and it's hilarious that people still think that's true). Asking an undercover cop if something is illegal also doesn't work.
The Entrapment Myth
The vast majority of people do not understand what "entrapment" means. It's not a loophole for people who would be breaking the law anyway. You don't get to prove that an undercover police officer misspoke, or lied, or misinformed you, and therefore "didn't play fair." The situations where "entrapment" actually applies are few and far between. Basically, they have to force or coerce you to do something illegal that you didn't want to do and weren't planning to do. I'm assuming the "entrapment" defense came about as a way to prevent what would essentially be wrongful arrest and false imprisonment: a scenario where we live in some dystopian society where law enforcement, out of boredom or the desire to fill jail cells or god-knows-what, is motivated to arrest and detain citizens, whether they are criminals or not. In that environment, undercover police officers could pose as burglars, break into your house, put a gun to your head, and force you to steal a shopping cart or wrestle a bear and then arrest you for doing so.
So that's the bad news.
However…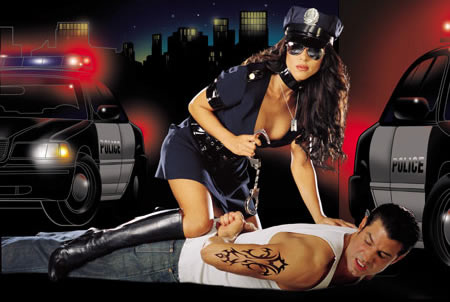 The Good News:
The good news is, meeting with an escort is not illegal, nor is working as an escort. This is important: Escorts accept compensation for their time. This is not a bullshit statement to be taken lightly. Escorts do not sell sex. If you pay for an hour with an escort, she is under no obligation to engage in sexual activity with you (for that matter, no one is ever obligated to have sex with anyone else, paid or not).
We (and by "we," I mean "the royal we") interrupt this blog post for a brief message about sex workers' rights and the whorearchy:
I want to make this very, very clear: I do NOT look down on people who sell sex. I do not consider escorts to be "above" street sex workers (which is what most people think of when they hear the word "prostitute"). I don't consider myself somehow "better" than a woman who advertises certain sexual activities for money. I, along with damn near every authority on the subject (including, but not limited to: Amnesty International, the World Health Organization (WHO), the Global Alliance Against Traffic in Women (GAATW), Human Rights Watch, and sex-workers' rights advocacy and sex-worker-led organizations all over the world) support the full decriminalization of all sex work–that is, work in the adult entertainment and services industry–as that's the best approach where ethics, public safety, and public health are concerned. But until that happens, we should all be mindful of the distinction between what is legal and what is not, even when that distinction seems silly (hey, just add a camera, and it's porn, which is 100% legal!).
Do escorts sleep with clients? Sure, if they want to. Consensual sex between adults is not illegal. So arrive on time, freshly showered and smelling nice, and place the envelope on the dresser (or wherever she has specified on her website). Be in a good mood, be respectful, and just be a nice person. Anything that ends up happening between two consenting adults is simply…what sometimes happens between consenting adults. ;)
Time vs. Sex
The problem here is that many, many, many people confuse selling time with selling sex. This is why you may see "escorts" (women who call themselves escorts, anyway) offering certain sexual activities for certain dollar amounts. Oh, and phrasing it as "50 'Roses'" or "200 'Kisses'" is not only cheesy; it's pointless. Same with using acronyms and code words. Asking "How much for a BJ?" or "Do you allow MSOG?" or "Do you charge extra for Greek?" is NOT going to help you avoid arrest, dumbass. Come on. Cops aren't stupid. Do you really think they'll be fooled? Do you really think "BJ" is going to throw them off? Do you really think they have no idea what "Greek" means? Furthermore, the law isn't stupid. "But officer, I didn't offer her 160 dollars; I offered her 160 roses!" isn't going to keep you out of jail.
So if you don't want to be arrested, don't do anything illegal, and don't meet with "escorts" who are doing anything illegal.
Don't Ask For Advice From Idiots on the Internet
There are lots of tips on the internet that are ridiculously misguided. I saw one that said "Ask her to text you a nude photo. Cops can't do that." The hell they can't. Why wouldn't they be able to? Even if they don't have an attractive female undercover police officer willing to get naked and take a selfie, it takes like 2 minutes to find a sexy naked selfie on the internet. Also, no self-respecting (OK fine, unless she enjoys doing that) escort is going to send you nudes for free. First off, um no, what if you know our dads or something? Secondly, there are websites where we can get paid for that nowadays, lol. Same thing with inviting her over for "nude modeling." Um, no. I'm not going to some guy's hotel for him to take a bunch of shittily composed, badly-lit, identifying photos of me walking around naked so that he can post them all over the internet and/or use them against me. You're going to miss out on a lot of great opportunities if you limit yourself to people who are willing to let a complete stranger have that much freedom with their images.
Are there certain things undercover police officers say that a companion would never say?
Yep: "You're under arrest."
Well, I guess an escort might say that if you're both into that kind of role play…but I digress.
Ok, you have to keep reminding yourself that prostitution (the exchange of sex for money) is illegal; escorting (the exchange of time and attention for money) is not.
So, if someone offers to give you a BJ for $100? Go for it if you want, but know that you are breaking the law. If you offer someone $250 for sex and she accepts, that's all fine and good, as long as you both know that you're engaging in illegal activity and you're comfortable with the risk of consequences.
Escorts who are not breaking the law will not offer you sex for money. And many of us don't like to talk about money, first because it ruins the mood and the fantasy, and second because it can devolve into a man morphing into a crasser version of himself–the version that "thinks with the wrong head," forgets that we are people, and starts trying to negotiate dollar amounts for activities which, as you know, is illegal.
How to Ask What Sexual Activities an Escort Does or Doesn't Do
How do I find out about what they can or don't do without incriminating myself or sounding like an idiot?
Why do you need to ask this before you've even started? Who does that? I mean, I guess some people do, but I find that really odd, if you want to be intimate with a person, as opposed to a list of activities.
At the beginning of your time together, as I explained in my last post, introduce yourself, be normal and nice, make conversation, and treat this as a normal date. The monetary gift should already be in place. If she likes you, things will progress. Yes, you can "make the moves" on her, as you might with anyone you're on a date with, unless she has made it clear that she does not want you to. And an escort is not going to stick around if she doesn't want you to. She will either leave, or she will ask you to leave. Hopefully you'll be graceful about it and won't just reach over and grab her boob and honk it or something totally ridiculous (though I think I would crack up if that happened). If you're really feeling confused as to how to get the physical intimacy started, ask for a backrub. Or even better, ask to give her a backrub! If you're not sure what to do next, let your hands wander a bit and ask, "Is this OK?" You'll probably start to undress each other at this point. WTF, I'm actually turning myself on picturing this, LOL.
Ahem, anyway. Really, all I'm doing here is telling you how to initiate sex with a woman. Escorts are women. Go with the flow, checking in along the way, and ask for what you want in the moment. Communication is key.
As for not incriminating yourself: Again, don't exchange money for sex.
As for sounding like an idiot: we all sound like idiots sometimes, so the sooner you get used to it, the better.
So I'm safe, right?
All of this being said, if the police want to arrest you, they'll find a way. Sorry, that's the world we live in.
Your best bet is to decrease your risk: meet with providers who are unlikely to be undercover cops, and who are unlikely to be targeted by police.
Think logically. Is an escort who has been around for a while, who maintains a presence online, who obviously cares about the image she's presenting to potential clients, likely to be a cop? Probably not. If she were meeting with guys simply to arrest them, word would get out pretty quickly. That's the beauty of the internet. Within an hour of being bailed out of jail, the guy would be pounding away at his keyboard, making sure everyone who would even THINK about seeing an escort knew not to meet with her.
Now, think like law enforcement. The exchange of sex for money is criminalized for no good reason (other than time-honored prudery and the power of the "moral majority"), and I'm willing to bet that the vast majority of police officers couldn't care less what consenting adults do behind closed doors and why they do it. But they don't write the laws; they just do the job. And, for now, stings are part of the job. "Stings" happen for a reason. Usually, the goal is one of the following:
"Clean up the streets": Remove sex workers and their customers from the area (the area's being gentrified, new money is coming in, and the newcomers want "those icky people" to disappear).
"Be tough on crime": There's an election coming up–Quick! Everybody look busy! Make some arrests!
"Rescue sex trafficking victims": I've talked about this ad nauseum elsewhere.
So:
Don't go cruising around in your car offering people money for sex.
Don't see escorts who seem not to consider their own safety before agreeing to meet with you (i.e., they don't screen) (if the goal is to make arrests, law enforcement isn't going to make it difficult for you)
Don't meet with escorts who you think might be forced or coerced to sell sex, or who appear to be minors. As a matter of fact, I suggest meeting with women you're damn sure aren't minors (partly because you don't want to risk meeting with someone too young to consent, and partly because cougars are hot).
OK that is a lot of writing. I'm out.