Hello all! Just wanted to give a shout-out to a couple friends. One is an escort in Dallas, Tx, and one is a cam model on MyFreeCams.com. Both are close friends, and I know both of them In Real Life, so I'm not just shilling for some random hussies–I'm shilling for hussies I love!! So, if you're looking for an escort in Dallas, consider my friend Savannah Grace. If you're staying in tonight, check out (one of my most favorite people ever) AnnabellePoe on cam.
Savannah Grace in Dallas (Independent Escort)
So, my friend Savannah Grace is a new-ish escort in Dallas. I first met Savannah about a year ago when she was visiting NOLA. A mutual friend put her in touch with me so we could meet up for a drink while she was in town. Well, she ended up just staying at my place, and I'm glad she did because we got to know each other pretty quickly, and now I have an awesome friend in Dallas! Here's her website (click the pic!):

Savannah Grace – Your Luxury Companion – Dallas, Texas



Oh…did I forget to mention that she's super hot? Because she is, obviously. And also fun. We have a similar quirky sense of humor, but she might be just a little more…boisterous than I am. But just a little ;)
Cam Girl/Cam Model AnnabellePoe
I also wanted to tell y'all about my friend Annabelle, who recently started cam modeling. If you're not familiar with the "cam girl" world, I encourage you to check it out; it's fascinating (and apparently, those hot camgirls deal with a lot of the same stigma and ignorance that we escorts do). It's basically a good old-fashioned "chat-room" (remember those??), except a hot girl is on the screen hosting it via her webcam. It's free to watch her, but if you make an account and buy "tokens," you can interact and join in the discussion, participate in games or activities or whatever she's doing at the moment, tip her when she does something sexy (and Annabelle does do sexy stuff), or even ask her to do a private session, where you can either watch her alone, or you can watch each other via webcams (at least I think that's how "privates" work–you'd have to ask her). It's actually a lot of fun; I bought some tokens and I've been tipping her all week, lol. If you see someone in there with the name "iheartcostco," yeah, that's me, lol.
Anyway, Annabelle and I met years ago through her best friend, and we immediately started hanging out. She's one of the most treasured people in my life–on my worst days, she can make me laugh, and she's the perfect person to hang out and eat massive amounts of cheap candy with when your car dies in the Walgreens parking lot at night. This is Annabelle: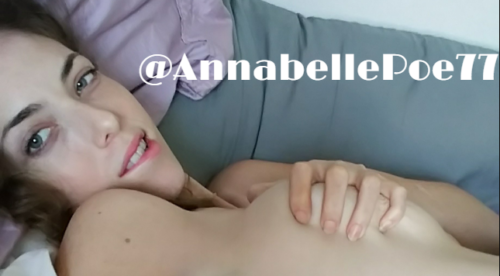 AnnabellePoe's room on MyFreeCams
You can't tell from the pic, but she has pretty much the perfect body–she's insanely tall and lean, but with massive boobs. It's…nice to look at, lol. So go look!
Click that pic above to visit her room. She's actually in there right now, so if you're reading this anytime soon, she'll probably still be around. If not, this is her profile on MyFreeCams: AnnabellePoe on MFC, and she's @AnnabellePoe77 on Twitter.