New question today! It's a good one, too. I talk a lot about client screening, but it's been a while since I've written on the topic of how to figure out if an escort is legit.
Dear Annie,

I found an escort on Eros.com. She has her own website but refuses reviews (which I understand and appreciate). I am wondering if I can trust this individual even though we only texted to set an appointment. She did ask for an email from my work account so I feel a little at ease but still question if I am being reckless with a possible sting. Thanks.

PS: The appointment is at her incall at a hotel. Thanks.

–LonelyInNashville
Ah, the whole "is she/he a cop" question. It's a constant concern for anyone who works and/or plays in this biz. And of course, it will be, until the US wakes up and realizes that full decriminalization is the only ethical approach to sex work, the safest approach for sex workers, and the best way to protect vulnerable people from those who wish to exploit them.
But in the meantime, we have to research clients before we meet with them, and when considering meeting with an escort, clients must take great pains to do research of their own.
I tend to yammer on and on about the "why" of things before I get to the "how" because everything leads to a whole new can of worms–especially when I'm procrastinating in order to avoid something I really don't feel like doing, like get in my un-air-conditioned car and drive to the grocery store. So sit back and prepare to read a novel, or just skip to the How to Vet an Escort Who Doesn't Allow Reviews section.
So You've Found an Escort Who Doesn't Allow Reviews
In this situation, most "hobbyists" would tell you to run the other way. Fast.
But wait! Her pics are super hot and her website and ads are intriguing as all hell and you really, really, really wanna meet this girl. Also, fuck hobbyists, they're just jealous that she won't give them a discount in exchange for a good review.
But you can't just go for it without taking some precautions. For one, you want to make sure this isn't some kind of bait-and-switch situation–you don't want to book an appointment with a girl with supermodel good looks and wit to match, only to be met at the door by a bridge troll (LOL I kid, I kid). But more importantly, you don't want to end up in a sting.
So what now? Well, believe it or not, many, many reputable providers do not participate in the review system, and there are other ways to verify whether an escort is legit.


Why Some Escorts Don't Allow Reviews
Contrary to popular belief, reviews aren't the end-all be-all to vetting an escort. Like I said, many providers don't allow them (and for a while I actively discouraged them, and then I realized that in general, clients who meet with me aren't the type to write reviews anyway. And besides, the occasional flattery IS kinda nice…), and the vast majority of the time, it's not because they're trying to pull one over on clients.


The Purpose of Escort Review Sites
The review system. Many escorts have a love-hate relationship with it, and many escorts simply have a hate-hate relationship with it. Ostensibly, review sites are a way for hobbyists to let other hobbyists know which escorts are legit, which are to be avoided, and what services a given escort offers. Sounds great, right?
Well, it is…kind of. First of all, understand that review sites aren't providing a forum for clients to exchange info about escorts out of the kindness of their hearts. It's a business. And as many of you might already know, there's a lot more to this business than providing a way for clients to "stay safe," "avoid thieves," and "let other guys know what's 'on the menu'" (barf).

Review sites are, first and foremost, in the business of selling memberships and advertising space. That is, after all, how most content-based websites make money. This is why, on sites where the userbase is escorts and their clients, you'll see tons of pop-up ads with messages like "Don't hire an escort! Get a free fuck buddy on AshleyMadison.com!!!!!" or "Escorts are disgusting trash; Why fuck a hooker when you can get a college coed for cheap? Come to SeekingArrangement.com and find a Sugar Baby!" Seems kinda contradictory for sites that facilitate client/escort meetings to run anti-escort ads, right? But ad revenue is ad revenue.
The "content," of course, is the stuff on a website that people actually want to see–the entire reason they came to the website in the first place. After all, no one visits a website because they want to look at the obnoxious, blinking, tacky paid advertisements in the margins, just as you don't watch TV because you like commercials (well, unless it's the Superbowl, but I digress).
For a news or magazine site, the "content" is the articles. For a site about visual art (photography, paintings, sculpture, art installations, etc.) the content is the photos. For a recipe site, the content is the recipes and the images accompanying them. The website serves the content to users, and alongside it, they display ads from third-party businesses who have paid for that ad space. So, even though the users visit the site to see the content, they have to view the ads as well.
The "users," of course, are you and me: the people who visit the website to view the content.
How Escort Review Sites Make Money–And How You Help
The genius of review sites is that the users provide the content. Therefore, the website doesn't have to pay writers or artists or any other content creators. And often, they pay for the privilege! In the case of review sites, the "content" would primarily be the photos of escorts (created and uploaded by the escorts themselves) and the reviews of escorts (created/written and posted by clients). A secondary content type would be the discussion forums, which consist of posts written by escorts and clients.
But remember, from a business standpoint, the site is all about selling memberships to (male) users, and selling advertising space to other companies. And the only way to make it worth the buyers' money is to have tons of content worth viewing.
And this, my friends, is why reviews that aren't explicit will be rejected. I know it's a common source of frustration for clients–you spend your $$, you meet with a provider, you go home and fill out the form and write a short essay about what happened, and some power-tripping schmuck (Administrator/Moderator) tells you it's not "detailed" enough, and he won't post it until you re-submit a version that's extremely descriptive about everything that happened.
They're not doing this just to be a pain (well, maybe some are). They're doing this because they're required to by whoever bestowed upon them the rare and coveted honor of Hooker Review Board Moderator. Moderators play an indirect role in generating money for the site. The site draws viewers via 1) pictures (and contact info, etc.) of hot escorts, and 2) written erotica (porn in text form, basically). You can't really jerk off to "Yeah, she's safe and legit. I had a good time. Highly recommended." And if it's not titillating, are you really gonna spend much time on the site, loading page after page (of ads)? Moderators are there to ensure that your reviews make good erotica–titillating content that will keep users on the site for hours, viewing those third-party ads.
So, now that we've established that the review system isn't exactly a purely generous service to the community, let's talk about how it plays out in the "real world." Yes, reviews can still be helpful, and no, profiting from that type of content is not an inherent evil. But because they serve a purpose as erotica, drawing clients to the review site, they must be…well, erotic. So, in order to have their review accepted, clients are required to describe in detail the specific acts they participated in with the escort. That's all fine and good until you realize:
Those descriptions can be read as a very blatant admission of trading money for sex,
Now that the review system exists, many escorts rely on it as their sole means of advertising,
A list of activities an escort engaged in with one client is often interpreted by future clients as a list of activities she is obligated to offer them, regardless of the fact that they are an entirely different person on an entirely different day in an entirely different situation/setting, etc.,
Escorts have no control over what a client writes, so he is free to reveal as much detail as he pleases, and to embellish or even lie (the sites do not allow escorts to respond to their own reviews),
Therefore clients have a lot of leverage, and the threat of a bad review (or the promised reward of a good one) can cause an escort to do things she otherwise wouldn't–offer services she's not comfortable with, lower her rates in response to a client's demands, etc.
Reputable escorts put A TON of time and energy into crafting and maintaining their personas on the internet. It's how we advertise and promote. It's how we show just enough of ourselves to entice clients without revealing too much to the public. It's the face of our business, and for those of us who really, really love what we do and want to keep doing it, it would be absolutely devastating if someone shattered the whole thing in an act of vengeance, jealousy, or just plain nastiness. So it's no surprise that some ladies would rather avoid this altogether.
So, when you find a provider who has opted out of the "hobbyist" escort review system, how do you know if she's legit?
Another photo, just as a reward for reading this far, heh: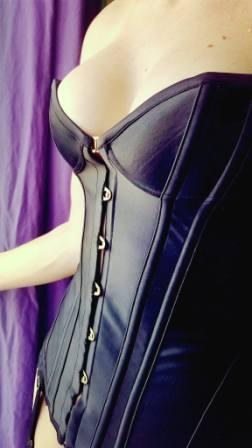 How to Vet an Escort Without Reviews
Luckily, there are tons of ways to vet an escort who doesn't allow reviews. Onward!


Reputable Escort vs. Undercover Cop
OK first, you need to know what you're looking for. Think about it: what kind of evidence would convince you that she's most likely not a cop? Remember, reputable escorts do not want to put their business in jeopardy, so we're very careful to maintain our image on the internet. If we were to participate in a sting (which doesn't happen, but let's play this game), it would take a matter of hours (or at most, days) for word to get out, and the business we've worked so hard to create would be destroyed in a matter of minutes. So the idea is to find an escort who is well-established, and use caution with anyone who appears fly-by-night.
Here are just a few things that might reassure you that she's an established escort, not a cop:
An in-depth, long-running website with photos and text that doesn't look like it was slapped together in 2 minutes (or stolen)
Ads with carefully-created photos and text that have been up for a while–not something quick-n-dirty that first appeared two hours ago.
An active, established social media presence
Profiles on escorting-related web forums and communities, and an established presence in those forums (comments, etc.)
Membership to a client screening site
Real reviews from real clients
Obviously, this isn't a checklist–she doesn't have to have everything on the list to be considered legit. And none of these is absolutely guaranteed to prove she's not a cop. This is simply a guide to finding evidence that will help you make an informed decision.


Google is Your Friend!!
Never underestimate the sloppiness of some people. A lot of people simply don't care enough, or aren't smart enough to cover their tracks.
Ever heard of "catfishing"? It's when someone (with evil intent) pretends to be someone else over the internet, usually via the use of stolen photos. Predators posing as escorts do it all the time, as do escorts who are afraid that their own photos wouldn't attract clients.
In a sting situation, the ad photos have to come from somewhere. It's highly unlikely that LE would be willing to arrange and pay for a sexy photoshoot for which they'd have to pay a photographer, a model, and possibly even a hair and makeup person. And it's pretty damn unlikely that an undercover female cop is going to go through the trouble of a sexy photo shoot–nor should she, and I hope that if one were ever pressured to do so by her superiors, she'd sue their fucking badges off for sexual harassment. But the photos have to come from somewhere, right?
If you know how to use a computer (or even a smartphone), it's pretty easy to find photos of an impossibly beautiful Brazilian model or a hot escort from another country or region (so that potential clients don't recognize her, and she's not likely to be checking to see if any escorts in Randomtown, USA are using her photos in ads), download them, and then use them in your own escort ads. So easy that it happens all the time–people have stolen my photos and used them in their own ads a few times. I imagine this is the same method LE uses when setting up a sting.
The good thing is, as long as the original owner of those photos hasn't deleted them from whatever website they were originally on, those photos still exist somewhere on the internet. This is where Google Image Search comes in. If you think the pics of the girl in the ad are TGTBT (Too Good To Be True) do a Google Reverse Image Search. It's easiest in the Chrome browser–just right-click on the photo, and when the drop-down menu pops up, click on "search Google for this image." Easy. I'm sure there's a way to do it on Bing, but I don't use Bing, and I don't feel like looking it up right now. If you're a Bing user, just Google "How to do a reverse image search on Bing." ;)
You can also Google a small but unique block of text from her ad (or site) to see if it appears on any other websites–if the ad was slapped-together with copy/pasted bits from other providers' sites out of concern for time and a need to "sound authentic."
Next, just in case, you can Google her phone number, just to see if anyone has put out an "alert" to the community about her when she was using another persona. This is pretty unlikely, but you never know. Maybe she was working with the cops (or maybe she's otherwise dangerous). Some people just don't bother changing their phone number after they ruin their own good name. Put the entire phone number in quotes, like this: "504-XXX-5309"


"Busted Escorts" Sites: Bullshit
You may find sites like "EscortBusts.com" or "BustedEscorts.com" or whatever. If you Google a girl's number, one of those sites may come up and say something like, "DO NOT SEE HER, SHE IS WORKING FOR THE POLICE, YOUR STUPED IF YOU GO SEE HER DONT SAY WE DIDN'T WRAN YOU." If you do, don't freak out. Take a deep breath and think this through.
I can't believe I have to explain this, but…I've seen way too many guys (and girls) freak out about these sites. THESE SITES ARE NOT LEGIT. Look at them with a critical eye. Why would a site like this exist? Does it serve any purported purpose other than hand-wringing over a girl supposedly working with the police? Would someone set up a site specifically and solely to warn unwitting would-be clients? How would they pay for that site? Ah, yes. The ads. Notice what those sites tell you, once you get over the shock and horror that OMG YOU JUST ALMOST WALKED INTO A STING (no, you didn't). See how they seem to be directing you to other, "safer" options (companies or sites) via links? There's the ad revenue. Scroll to the bottom of the page. There's probably a "Contact" option, and it might even say "Contact us to remove your information from our site." Bingo. They want the escorts pictured on these sites to pay them (usually around $100) to remove their names, photos, and numbers from the site. It's a form of extortion. That's why these sites exist. They have software that "scrapes" content (photos, text, phone numbers) from other sites (usually Backpage or other highly-trafficked websites with little oversight) and then they upload that same content onto their own site–add a little "OMG OMG OMG YOU IDIOT SHE'S A COP YOU ALMOST FUCKED UP!!" to accompany each photo/name/phone number, and watch the money roll in. How do they get away with it? Well…they're fucking with escorts, who don't really have the law on their side, or at least they don't understand it enough to make a case for themselves. As for the sites they scrape from? It's a copyright violation, but the highly-trafficked sites like Backpage don't have time to bother with protecting the content on their site from theft.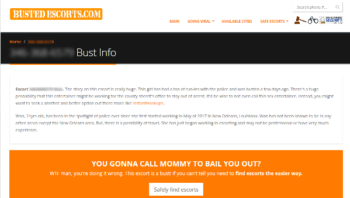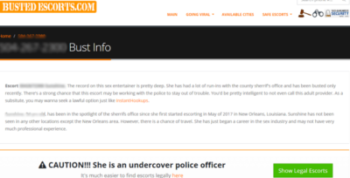 Social Media
Social media is another way escorts will establish their legitimacy. More than that, though, it's free publicity, and it's a way to interact with other escorts, keep up with their clients, and quickly add pics and announce availability. Does she have a Twitter or Instagram or Snapchat or whatever account that's been around for a while? Does she have more than just a few followers? Does she actually post stuff every once in a while? Like I said before, in general, LE isn't going to go through the trouble of setting up and maintaining all these details years in advance of a sting, lol. Especially for a misdemeanor.
The same goes for webforum activity. Check sites like TER (The Erotic Review), TOB (The Other Board), NightShift, ECCIE, SouthernGFE, or whatever is popular in your area.
Screening Sites, etc.
Is she a member of a client screening site like P411 (Preferred411.com) or RS-AVS.com? RS-AVS.com isn't used in my area, but Preferred411 (P411) is pretty popular, and from what I can tell, it's used pretty widely, at least in the US. P411 has been infiltrated in the past, but if I remember correctly, LE were targeting escorts, not clients. Either way, P411 is a walled garden of safety precautions, which can be really frustrating when you're new, but it is what it is. Not just anyone claiming to be a provider can join P411. You have to provide some info to the site's administrator, and you have to prove that you are really, truly an escort. How does one do that?
Well, in order to be accepted to P411, an escort has to provide proof in the form of….
…
…
(wait for it…)
…
reviews from established clients.
No shit. So yeah, if she's on P411, it's a pretty good sign that she's legit, or that her persona was at some point in the past. Perhaps she originally got a couple reviews just to get access to P411 (that's what I did), and then went "No Reviews Allowed." Or maybe she used to accept reviews, but then she got to the point that she no longer needed them, nor did she want the type of clients they attracted. It's very difficult, but an escort can sometimes get reviews removed from a site (usually she has to fight tooth and nail with the admins of the site, and then she's essentially unwelcome on that site forever).
Or maybe her old reviews are still up somewhere, she just doesn't promote them as an advertising tool. You might wanna check.
Lastly, remember that, regardless of her "no reviews" policy, if an escort is trouble (a thief, a bait-and-switch, violent, or working with LE, for example), people WILL post about it. It's not like she has any recourse.
Anyway, I hope that helps. No, there's no way for me to guarantee you're safe (or unsafe) from a sting if you meet this girl…but maybe these tips will help you use your best judgment.
Have fun and play safe!!