Hey all! Thanks so much for continuing to send questions! I'm trying to answer them in the order in which I received them, but I do tend to forget about things that I've had on the back burner for awhile (which is why I keep a fire extinguisher next to my stove). So, if you've sent me a question and I haven't gotten to it yet, give me a nudge. Mention it in the comments below, or email me! And now, for a question about newbie couples in search of an escort for a threesome.


Hi Annie, I love your blog. I was wondering what your opinion is on newbie couples. Do you think it would be advisable for the woman to have a little alone time first, to feel things out. Or do you think the couple should just jump in together and enjoy the experience together from the start? Thank you in advance for your response.

Nick
First, glad you like my blog! I aim to not only show a little of my personality, but to help educate clients (newbies and experienced clients alike) and up-and-coming (heh) escorts about this lifestyle/biz so that they can make informed decisions in order to have the best and safest experience possible.
As for my opinion on newbie couples: I love them! I love helping couples explore their sexual fantasies in healthy, honest, safe ways. Being invited to be intimate with a couple, as long as both partners are informed and eager, is something I find highly erotic. I am honored to help both individuals explore their sexuality, their adventurousness, their fantasies, and the special bond they share–which will hopefully be even more sexually charged after I've left. I love knowing that the excitement continues long after I'm gone–or so I've been told by couples I've seen in the past.
And I think that's the case because I prioritize pre-date communication and planning. Anytime a couple adds a third party to the mix, it's a delicate situation, and I understand and respect that. That's why I think it's important to discuss expectations and boundaries beforehand.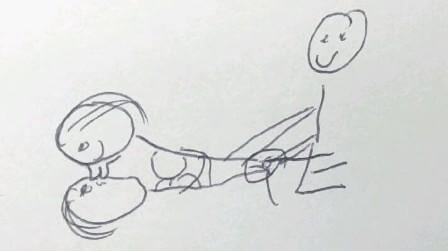 Boundaries
When I'm meeting with a client solo, expectations are generally pretty clear and straightforward, so it's usually not mandatory that we discuss them beforehand (and especially not before we're face-to-face: please don't discuss these things via email or phone). But boundaries can be a bit…blurry. Any client who has met with me knows that I like to make sure I'm clear on boundaries. That's why, before things get too hot and heavy, I'll ask about boundaries.
By "boundaries," I mean "activities in which you 100% do NOT want to engage," or "activities that will 100% turn you off if I initiate them." Pretty straightforward. I like to be clear on this because, even though I value communication during sex, I don't want a client to be in a situation where he feels uncomfortable or awkward in the moment; I'd like to avoid that situation if possible.
For pretty obvious reasons, this kind of clarity is especially important with couples.
First and foremost: Please don't "surprise" your partner unless you're SURE he/she will appreciate and enjoy the surprise! I've said this before and I'll say it again (and you'd think it would be obvious), but it bears repeating. Please be 100% sure your partner wants this.


Pre-Escort Communication: Discuss Boundaries and Expectations With Your Significant Other
In order to provide a satisfying experience for the couple, I need to be really, really clear on what the two of you are comfortable with–and what you're not. So, discuss these things beforehand, and discuss them in detail. Who can do what with whom? Can the escort kiss the wife/girlfriend? Can the boyfriend/husband penetrate the escort? Can the escort penetrate the wife with a strap-on? Can she penetrate the husband/boyfriend with a strap-on? Can she kiss the husband/boyfriend? I'm serious. Specifics. Details. Write 'em down, even.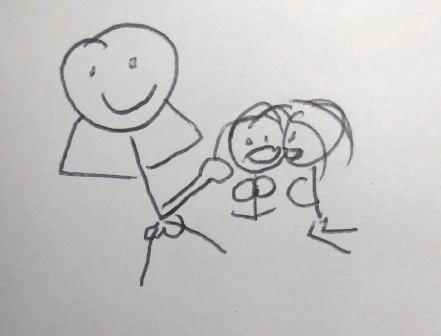 This is also the time to discuss any fantasies you have that you'd like to try out. If the two of you are interested enough in a threesome that you've started the process of setting up a date with an escort, then you've undoubtedly fantasized about a third at some point in the past. Specifically, what activities (in the context of a threesome) do you fantasize about? Come on, you know what I mean. What gets you off when you're watching threesome porn and flying solo? What gets the two of you going when you're watching threesome porn together? What kind of things do you imagine when you're bored at work and feeling horny? Be honest. This is your opportunity to make those things happen.


Before a date with a Male/Female Couple: Private Chat With the Escort
If I'm meeting with a man and woman who are in a long term relationship (marriage, long-term boyfriend and girlfriend, etc.), I prefer to chat with the "better half" (the lovely lady!) privately via phone at some point before the appointment so that she and I can go over certain specifics about what should and should not happen during our time together. This helps to avoid any complications or dissatisfaction with our rendezvous, and it helps me get a good idea of how to please both partners.
In these conversations, we go over boundaries and expectations (which the two of you have discussed, right?), ideas, questions, things the two of you may or may not want to explore, etc. I want this to be a positive experience for everyone involved–one that will fulfill expectations without crossing any lines. And obviously it should be relaxed and fun, and that's easier to accomplish if we're all on the same page.
But a secondary purpose of these chats is for me to establish a camaraderie with her and to reassure her that we're on the same team. I want to dispel any worries she has about my motives or my intentions. I am not after anyone's man. I am not going to try to upstage you. I will NOT do anything with him that you're not prepared for and enthusiastic about. You will NEVER feel "left out." Because, honestly, you (the wife/girlfriend) are the most important person here, as far as I'm concerned (Sorry, guys. But you'll thank me later when this experience isn't a source of regret.)
So, to answer your question, Nick: I think it's important that the escort and the "better half" have time to chat privately in advance–several days in advance, preferably.
I do not, however, think it's especially helpful for the escort and the wife/girlfriend to meet privately in person. A lot of the success of this kind of meeting depends on not just sexual boundaries, but mental/social ones, too. Compartmentalization is key. The escort is someone you saw that night, for that predetermined amount of time, in that hotel room, in exchange for that specific amount of money. Your memory of her is confined to that time and place. She doesn't exist in your life outside of that setting. This experience belongs to you and your partner, and you should enter (gawd, I have the sense of humor of a teenage boy) and exit that experience together. To me, meeting beforehand privately with the wife/girlfriend makes things too…I don't know. It's hard to explain. It just feels wrong. If I'm meeting with a couple, I want you to experience every bit of me (that you choose to experience) at the same time, together. Does that make sense? Maybe not…but it's lunchtime and I'm hungry, so it'll have to suffice for now, lol.